Performance: A Christmas Carol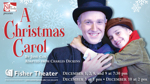 Scrooge nears the end of his life thinking only of his business and how to accumulate even more money. Then one Christmas Eve he is confronted by ghosts of the past, present, and future; each has a lesson to teach him about where his obsession came from and where it has taken him. What will Scrooge do when the truth can no longer be ignored? All of Dickens' iconic characters come to life in the telling of this familiar and much loved story.
---
Students $11, seniors $16, adults $18.

Funded by Student Government.