Intermediate Glass Beads Workshop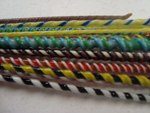 Take your bead skills to the next level! Learn to create "twisties" - special rods of glass made by melting and twisting multiple colors together.
---
Make colorful, complex beads using your new twistie rods. Students must complete a beginning glass beads class before taking this class. Supply fee includes glass for class time only. Propane/MAPP is available for purchase if needed. Free week includes use of tools but no supplies.

Instructor: Rhonda Scott

ISU $23 ($15 tuition + $8 supply fee)
Public $33 ($25 tuition + $8 supply fee)


Wednesday, October 25 from 6-9pm

Please pre-register.