Cyclone Cinema: Murder on the Orient Express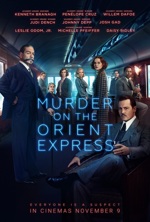 The Student Union Board presents Cyclone Cinema! Showings are FREE in Carver 101 at 7 and 10 p.m. every Thursday, Friday, Saturday, and Sunday. Hope to see you there!
---
Starring Kenneth Branagh and Penelope Cruz, the crime, drama and mystery film is about a murder on a train and the detective recruited to solve the case.