Acrylic Painting Class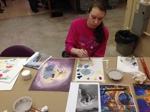 Discover the versatility of acrylic - a water-soluble medium that dries quickly.
---
Learn basic color theory as well as painting from both life and photographs. Techniques will include monochromatic painting, full color application, and glazing. For beginning painters or those with some experience wanting to expand their skills.

Instructor: Kyle Renell

ISU $70 ($48 tuition + $22 supply fee)
Public $80 ($58 tuition + $22 supply fee)

Tuesdays beginning February 20, 7-9pm for 6 weeks (No class March 13)

Please pre-register.