Bookbinding with Pretty Papers Class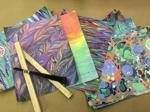 Artists have been making gorgeous marbled and paste papers for centuries. Now it's your turn!
---
In the first two sessions, Rhonda will help you create your own stash of vibrant decorative papers using two very different (and fun!) techniques. In the last session, Sara will teach you how to bind your favorite papers into a book, perfect for journaling and drawing.

Instructors: Rhonda Scott and Sarah Merritt

ISU $50 ($30 tuition + $20 supply fee)
Public $60 ($40 tuition + $20 supply fee)

Tuesdays beginning February 20, 6:30-8:30pm for 3 weeks

Please pre-register.