The Vagina Monologues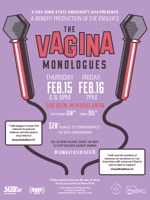 The Vagina Monologues is an award-winning play based on V-Day Founder, playwright, performer and activist Eve Ensler's interviews with more than 200 women. With humor and grace the piece celebrates women's sexuality and strength. Through the play, and the liberation of this one word, countless women throughout the world have taken control of their bodies and their lives.
---
For more than 20 years, The Vagina Monologues has given voice to experiences and feelings not previously exposed in public. The play aims to raise awareness and funds for anti-violence groups within the community - proceeds from the Iowa State production will be donated to the Ames, IA-based assault care center ACCESS and the V-Day spotlight campaign.

Ticket Prices are $10* for ISU Students, $15 for the Public, and $20* for a Bundle to commemorate the 20th anniversary.