Repurposed Metal Bracelets Class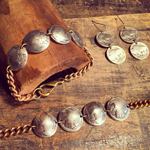 Learn basic metalworking and jewelry making techniques while repurposing vintage objects into wearable art.
---
Create your first bracelet by bending a key over a mandrel, and attaching it to chain. Use our letter stamps to add a word or phrase to a piece of brass for your second bracelet. The final project will be using a dapping block to create concave-shaped buffalo nickels that will be drilled and joined together. All supplies are included but you are welcome to bring a special key or coins.

Instructor: Andrew Kingsbury

ISU $50 ($30 tuition + $20 supply fee)
Public $60 ($40 tuition + $20 supply fee)


Tuesdays beginning June 12, 6-8pm for 3 weeks


Please pre-register.