Beginning Soap Making Workshop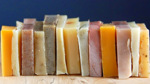 Make quality, handmade soap from scratch (no synthetic bases!) using the cold-process method.
---
Learn the step by-by-step process - from the selection of oils, colorants, fragrances and equipment to calculating lye amounts. A messy but fun process so wear old clothing with a long-sleeved shirt and closed-toe shoes. Lye safety will be emphasized. Leave class with about 1.5 pounds of soap worth $35!

Instructor: Jan Verploeg

ISU $40 ($20 tuition + $20 supply fee)
Public $50 ($30 tuition + $20 supply fee)

Wednesday, June 6 from 6-9pm

Please pre-register.