Concert: The Pretenders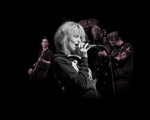 The Pretenders return to Iowa for the first time in nearly a decade.
---
Tickets are available through Ticketmaster, including the Stephens Auditorium ticket office (noon-6 p.m. weekdays).

The Pretenders became new wave legends with chart-topping hits like "Back on the Chain Gang," "I'll Stand By You" and "Don't Get Me Wrong."

"Alone," (2016) is the first Pretenders album in eight years. Originally intended as a solo follow-up to lead singer Chrissie Hynde's 2014 solo album, "Stockholm," it became obvious that its driving guitars, arrangements and lyrics sounded familiar -- and The Pretenders were back.

The Rails will open this performance.