Live Your Truth: A Queer and Trans People of Color Party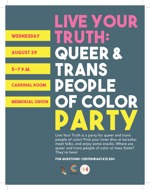 Live Your Truth is a party for queer and trans people of color! Find your inner diva at karaoke, meet folks, and enjoy some snacks. Where are queer and trans people of color at Iowa State? They're here!
---
This event is co-sponsored by the Center for LGBTQIA+ Student Success and the Office of Multicultural Student Affairs.

Students, faculty, and staff who identify as queer and/or trans people of color are welcome.

Any questions about this event may be sent to .