Glass Beads Class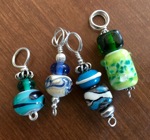 Learn to create colorful beads by heating and shaping glass with a torch - yes, we get to work with fire!
---
Build your skills with step-by-step instruction, and see how the quality of your beads evolves. Use your vibrant pretties in your next jewelry project, or display them as tiny works of art.

Instructor: Rhonda Scott

ISU $73 ($45 tuition + $28 supply fee)
Public $83 ($55 tuition + $28 supply fee)

Thursdays beginning September 6, 6:30-8:30pm for 4 weeks

Please pre-register.