Resin Butterfly Wing Pendants Walk-in Craft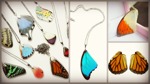 Choose a beautiful wing from Reiman Gardens' Butterfly Conservatory to turn into a lovey resin pendant. Wings are gathered after butterflies die naturally, so no butterflies will be harmed, only celebrated by their beauty. The butterfly is the symbol of Wings of Refuge, a program for the aftercare of human-trafficking victims, and proceeds from this event will support their initiative to bring a Wings of Refuge home to the Ames area.
---
Information about how human trafficking affects all of us and how you can help will be available for those who are interested in learning more. Drop in but give yourself an hour.