Cyclone Cinema: Creed II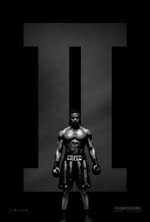 Creed II is a PG-13 drama/sport movie rated 4 stars. U.S. champion Apollo Creed was killed by Russian boxer, Ivan Drago in a tragic match. Watch Apollo's son, Adonis Johnson go head to head with Drago's son. Refreshments and snacks available at extra charge.
---
The Student Union Board presents Cyclone Cinema at 7 p.m. and 10 p.m. every Thursday, Friday, Saturday and Sunday.