Cyclone Cinema: Booksmart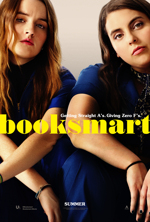 Amy and Molly are academic overachievers who realize on the eve of high school graduation they have missed out on special moments of their teen years. They decide to make up for lost time all in one night.
---
The Student Union Board presents Cyclone Cinema showings Thursday through Sunday at 7 and 10 p.m. Admission is free and the public is welcome. Pop and water are available for $1, while candy and popcorn are $2. Sunday showings are open caption. All other screenings are available with that option if the request is made to staff prior to the start of the film.