Cyclone Cinema: Art of Self-Defense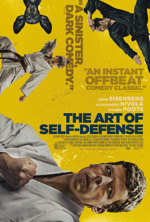 A dark comedy centered around the world of karate. After being attacked on the street Casey enlists himself in a local dojo to learn how to defend himself.
---
The Student Union Board presents Cyclone Cinema showings Thursday through Sunday at 7 and 10 p.m. Admission is free and the public is welcome. Pop and water are available for $1, while candy and popcorn are $2. Sunday showings are open caption. All other screenings are available with that option if the request is made to staff prior to the start of the film.