Celebration: National Campus Sustainablity Day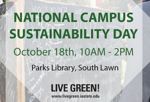 Hosted by the Green Umbrella and Live Green! Sustainability-minded student organizations, campus groups and community businesses will highlight their activities, initiatives and products. FREE coffee, apples, cookies and green-minded prizes!
---
Join The Green Umbrella student organization and the Office of Sustainability in support of ISU's Live Green! Initiative, and in celebration of all the sustainable achievements and initiatives on campus and in the Ames community.

Highlights include:

-Meeting student organizations and groups on campus as well as community groups and businesses off campus who are making a sustainable difference. Learn how to add some more green in your daily life through tips, ideas, connections and opportunities to get involved.

- Earning great green and sustainably-minded prizes.

- Taking advantage of FREE bike and longboard tune-ups offered by Outdoor Recreation Services and the ISU Longboarding Club.

- Enjoying FREE refreshments including cookies, coffee and apples from the ISU Horticulture Research Station.

DON'T FORGET:

- Bring your own mug (or earn a reusable mug at the event) for free coffee.

- Bring a non-perishable food donation to support The SHOP, ISU's student food pantry (founded and operated by students for students)!!

- Bring your gently-used bras and support The BRA (Bras to Recycle and Aide Women) Drive.


Participating groups and businesses include:
Amphibian and Reptile Club, American Fisheries Society, City of Ames Smart Business Challenge, Climate Reality, Engineers for a Sustainable World, Environmental Education Club, Environmental Science Club, Ethical Eating Club, Food Recovery Network, Iowa Waste Exchange, ISU Recycling Services - FP&M, ISU Theatre/MFA Program in Creative Writing & Environment, KURE, Live Green!, oSTEM, Outdoor Recreation, Overflow, Pay It Forward, Random Goods, Sankalp, St. Jude Up 'til Dawn, Student Government, Student Wellness, The Green Umbrella, The SHOP and The Workspace

For more information or to get your organization or group included, email Kelsey Culbertson () or Meghan Main ().