Cyclone Cinema: Good Boys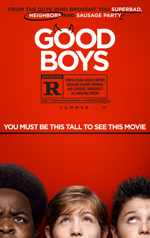 12-year-old Max recruits his friends, Lucas and Thor, for some help after being invited to his first kissing party. They decide to use a drone to spy on the teenage girls next door. When the boys lose the drone, they skip school and hatch a plan to retrieve it before Max's dad can figure out what happened.
---
The Student Union Board presents Cyclone Cinema showings Thursday through Sunday at 7 and 10 p.m. Admission is free and the public is welcome. Pop and water are available for $1, while candy and popcorn are $2. Sunday showings are open caption. All other screenings are available with that option if the request is made to staff prior to the start of the film.