Silver Rings Class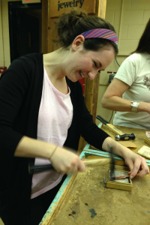 https://www.sac.iastate.edu/arts-the-wor...lass-sp20/
---
Saw, file and solder metal sheet to make a personalized ring that fits you to a T. Start with a band in copper to practice, and make your final in sterling silver. Embellish with stamps or texture, and learn how to polish to a high shine.

Open to ages 18+. All supplies included in class fee.

Class meets on Wednesdays, beginning March 25, 6-9PM for 3 weeks

ISU $60/Public $70

Please pre-register.