reACT Exhibtion Opening Reception: "Color Matters"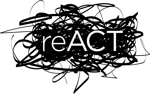 Get a first look at the newest reACT exhibition, guest curated by Dr. Jonathan Strum, Professor of Music. "Color Matters" explores the complex relationship humans have with color and how color shapes how we see and understand the world. Remarks at 5:00 pm by Dr. Sturm. Light refreshments.
---
REGISTER ONLINE
Registration encouraged but not required.

Program made possible through the generous support of the Offices of the Vice President for Research and the Senior Vice President for the Division of Operations and Finance.