Folded Forms & Twisted Figures: An evening of dance & art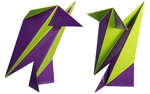 Performances of original compositions under the direction of Kinesiology faculty member Cynthia Adams. Dance students and Orchesis I dancers will present choreography inspired by their close investigations at the sculptures and drawings from the exhibition "Charles Ginnever: Folded Forms."
---
A celebration of movement in dance and art, experience a different kind of museum visit as you are introduced to works of art through the lens of dancers.

REGISTER ONLINE
Registration is encouraged but not required.