Last Day! Plant Propagation Station Drop-In Craft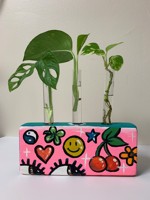 A little horticulture therapy is good for the soul and mother earth. Paint a wood block that will hold glass vials for starter plants. Choose 3 cuttings from our plant lady's stash to start your journey with flora. Drop in anytime Monday-Friday 2-9pm or Saturday 10am-4pm daily through September 14. Each station purchased comes with a coupon for free admission into Reiman Gardens!
---
If you have plants you'd like to share with others, please drop by with the plant or cuttings. Everyone is welcome at The Workspace, but kiddos need to bring along a grownup.