Concert: Zion I & ProbCause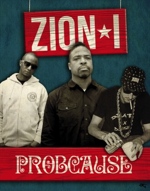 On the heels of the very boom bap oriented Masters of Ceremony EP, hip-hop artists Zion I are touring in support of Libations, the reflective 2nd installment of their 3 part series. With a polished sound that spans far outside the boundaries of hip-hop, Chicago-based ProbCause seamlessly jumps from dubstep - to glitch-hop- to R&B than back to a classic boom-bap gritty rap sound.
---
Purchase tickets in person at the M-Shop Box Office or over the phone at 515-294-8349 (M-F 11am-5pm). A $1 service fee will be added to all telephone orders. Tickets are also available online via MidwesTIX. A 3% service fee added to all online orders. All tickets are subject to an additional $2 MidwesTIX fee and most tickets increase $2 on the day of the show. A unique ISU student ID is required at the door for each student ticket used.
Further ticket information available here.