Walk-In Craft: Stone Mandalas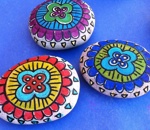 Stop by The Workspace and make a painted stone mandala using simple geometric forms. Keep it as a talisman for yourself or give it to someone as a small but special gift.
---
Mandalas are symbolic in Hinduism and Buddhism, and are created with geometric shapes incorporating ancient spiritual symbols. The Memorial Union will be hosting Tibetan Monks September 22-25, and they will create a large scale sand mandala on the 2nd floor.