Conference: CELT Teaching Symposium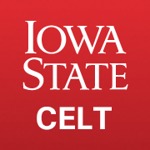 A half-day program encompassing best teaching practices and student support resources available at Iowa State. New Faculty and Graduate Teaching Assistants will learn from Iowa State's educators about how to prepare for a successful first semester of teaching, and explore CELT's services, resources, and professional development opportunities.
---
Registration closes on August 13. After August 9 participants will not be included in any food service counts.

**Check-in is available at 7:30 a.m.**

Visit Center for Excellence in Learning and Teaching (CELT) website.