Wheel Pottery Class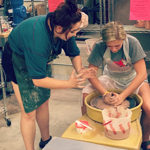 Get your hands dirty and make beautiful things! Open to beginners as well as those with experience who would like to improve their skills.
---
Start with centering clay and pulling cylinders, the building blocks to throwing on the wheel. Move on to forming bowls, mugs, vases and plates, and learn handle-pulling, glazing and finishing techniques.

Instructor: Greg Lamont

ISU $120 ($90 tuition + $30 supply fee)
Public $130 ($100 tuition + $30 supply fee)

Thursdays beginning August 30 from 6-8:30pm for 8 weeks

Please pre-register.