Cyclone Cinema: Yesterday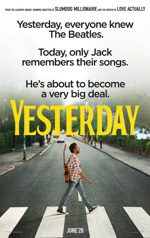 Jack Malik is a struggling singer-songwriter in an English seaside town. After an accident Jack wakes up to discover that The Beatles have never existed. Jack becomes on overnight sensation after performing The Beatles songs to a world that has never heard them.
---
The Student Union Board presents Cyclone Cinema showings Thursday through Sunday at 7 and 10 p.m. Admission is free and the public is welcome. Pop and water are available for $1, while candy and popcorn are $2. Sunday showings are open caption. All other screenings are available with that option if the request is made to staff prior to the start of the film.