Webinar, Enhancing accessibility of online courses: Course development practices and tools (QM Success Stories)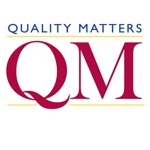 Uncover best practices for designing accessible courses in our next free QM Success Story. During the webinar,
---
Drs. Barbara Frey and Rae Mancilla will:
Share the results of a QM (Quality Matters) benchmarking survey measuring the impact and effort of common accessibility practices and applications
Discuss exemplary course development practices that promote digital accessibility
Identify tools for creating inclusive online materials and reviewing their accessibility compliance
Address next steps for QM member institutions in enhancing the digital accessibility of their online courses
Don't miss the opportunity to learn more about digital accessibility -- register for the next free QM Success Story today! The webinar will be live captioned.

About the Facilitators
Barbara A. Frey, D.Ed., is an Instructional Design Consultant with the University of Pittsburgh and a Senior Optimization Consultant with Campus Works Inc. She is also an Adjunct Assistant Professor with the School of Education at Point Park University in Pittsburgh, Pennsylvania. Barbara's background includes over 25 years of experience as a Senior Instructional Designer with Pitt Online, plus online teaching with the World Campus at Pennsylvania State University and the Global Campus of Colorado State University. Since 2003, Barbara has been an active Quality Matters Facilitator, Master Reviewer and researcher.

Rae Mancilla, Ed.D., is a Senior Instructional Designer with the School of Health and Rehabilitation Sciences at the University of Pittsburgh. She has over a decade of design and project management expertise in developing fully online and blended programs, including large-scale course development. Rae is also an active educator and researcher, teaching graduate and undergraduate courses on instructional technology, and is passionate about faculty development for online learning. Her research interests include the professional development of instructional designers, language learning and technology, digital accessibility, and program evaluation.

*Register to view this webinar on your own*
Register via the Enhancing accessibility of online courses: Course development practices and tools (QM Success Stories) registration webpage.

Learn more about QM via the Quality Matters at Iowa State University website.

This event is promoted ISU's Center for Excellence in Learning and Teaching. Learn more via the CELT website.