Understanding Diversity and Complexity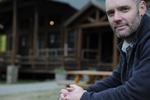 "A Business Case for Diversity," Scott Page. Page is a fresh voice in the long-running debate on affirmative action. His book The Difference: How the Power of Diversity Creates Better Groups, Firms, Schools and Societies uses mathematical modeling and case studies to show how variety in staffing produces organizational strength.
---
Scott Page argues that a creative environment with individuals from different backgrounds and life experiences is essential to progress and productivity. He is director of the Center for the Study of Complex Systems at the University of Michigan where he serves as Leonid Hurwicz Collegiate Professor of Complex Systems, Economics and Political Science. His other books include Complex Adaptive Systems and the forthcoming Diversity and Complexity.